A one in a million way to end the year
We're thrilled to announce that we have officially welcomed our one millionth customer in 2022, marking a major milestone for Dublin Express. On Wednesday, November 23rd at Dublin Airport, General Manager of Dublin Express, Rory Fitzgerald, was there to welcome the customer as they arrived.
Dublin Express' millionth customer of 2022 was Nikolai Lastad from Norway. Nikolai and his wife Mariana Zepeda were welcomed onboard with the surprise gift of a luxury hamper.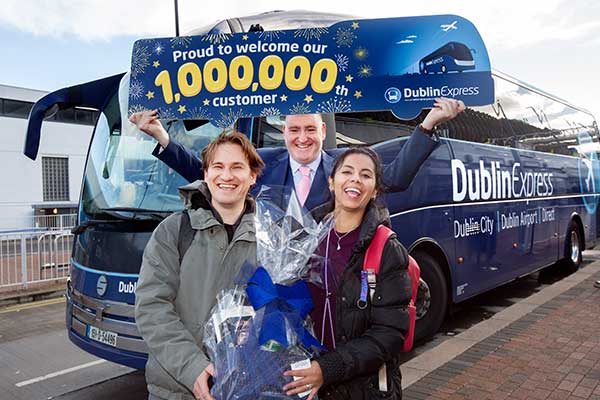 Rory Fitzgerald, commented: "It was great to celebrate this milestone with Nikolai and Mariana. It's amazing to see how far the service has come since the return of air travel. Taking the coach to the airport has never been simpler and our customers tend to agree. Not only is it quick, reliable, and affordable, but also good for the environment." Nikolai Lastad added: "It was such a lovely surprise to find out that I'm Dublin Express' millionth customer. We've not long arrived in Dublin, and already everyone has been so kind to us. We can't wait to explore more of what the city has to offer. Thank you to Dublin Express for kicking our holiday off to such a good start."
Dublin Express operates the fastest route between Dublin Airport and the city via the Port Tunnel with services running every 15 minutes. In the last year there has been a rapid return of air travel, which results in a higher demand for transport to the city centre. To meet rising demand, the 784 route was launched, connecting the south of the city to the airport. Together with the 782 route, Dublin Express now serves 15 stops across the city.
National Express Ireland recently announced plans to invest around €30m on a fleet of up to 50 new vehicles over the next five years to provide Ireland with a more sustainable transport system. The investment will help boost passenger numbers and provide customers with more comfortable journeys.