24 hours in Dublin
There are many different ways to spend 24 hours in Dublin. Taking the hop-on, hop-off sightseeing bus tour is a great way to make the most of your time in the city and spend as much time as you like visiting the attractions that interest you around Dublin's city centre.
Dublin Express have a special offer with Big Bus Dublin (Vist our Offers page for a 10% discount) where you can enjoy a one-day hop-on, hop-off sightseeing bus tour and then board a Dublin Express bus for a quick and easy transfer between Dublin city centre and Dublin Airport. This could be a great option for people looking to do a day trip in Dublin.
The bus tour brings you through the heart of Dublin, with stops at 25 different landmarks and attractions. Hop off to explore from any stop or stay on board to relax and see the sights unfold before you. You can see The Spire, Trinity College, St Patrick's Cathedral, The Guinness Storehouse, and many more on this tour.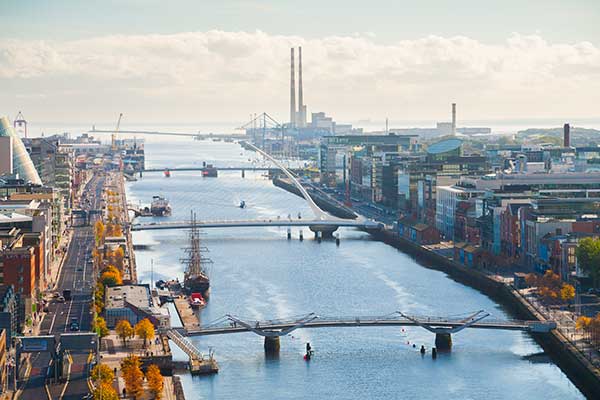 In the evening, grab a bite to eat in Temple Bar and take a breather from all your sightseeing. Temple Bar is right beside the River Liffey and at a very central location. There are a hive of pubs, shops, art studios and cafes here for you to enjoy. Temple Bar also has a great energy about it, so give yourself time to soak up the atmosphere with numerous musicians outside and live music in most of the pubs. If you want to hang out, this is the place to be.
When you visit Dublin, you should visit some of the city's numerous galleries and museums that the city has to offer. In most cases, these galleries and museums are free, which is even more reason to give them a visit. The Irish Museum of Modern Art and The National Gallery are great options. If you want to go for a more calm day out in Dublin, this is definitely the way to go and don't forget to stop at one of Dublin's many cafes for a coffee.
If you fancy a little shopping, Grafton Street is definitely the place to be. There are many boutiques, souvenir shops and restaurants, as well as many designer and high street stores. It is also a pedestrian street so it is always full of street performers, musicians and artists. Don't forget to also visit the markets in Georges Street Arcade which have something for everyone.
There are many ways to spend 24 hours in Dublin, you can fill your itinerary full of fun activities or just go for a nice day out shopping and gallery hopping. If you want to try a bit of everything, taking the hop-on, hop-off sightseeing bus tour would definitely be recommended. Why not check out some offers from some of our partners to start off your adventure?