How Do I Get from Dublin Airport to Dublin City Centre?
If you're flying into Ireland and want to get straight to Dublin City Centre from Dublin Airport, we've got you covered. Dublin Express provides the fastest way to get to Dublin City Centre.
The bus stops are directly outside of Terminals 1 and 2, so no matter which terminal you land in, there will be a coach right outside the door when you exit. Most airlines land in Terminal 1, including Ryanair, Air Transat, and British Airways. Airlines that land in Terminal 2 include Aer Lingus, American Airlines and Emirates.
Whether you're coming to Dublin for a long weekend or a week-long holiday, you'll have plenty of time to delve into the city's history and experience Irish culture at its best. We have 15 bus stops located throughout Dublin City that will take you where you need to go.
But don't forget that Dublin is just one part of Ireland's beautiful landscape—you can take some time to see some of the country's most famous landmarks as well! If you want to travel beyond Dublin, there's no reason not to take advantage of the fact that it takes only a few hours by train from Dublin to visit some of Ireland's most famous landmarks and we have a stop right outside of Heuston Station (Dublin's main train station) so you can explore Ireland with ease. Heuston Station has trains for travelling to Cork, Limerick, Galway, Westport, and more. You can travel onwards with Dublin Express from Irish Rail.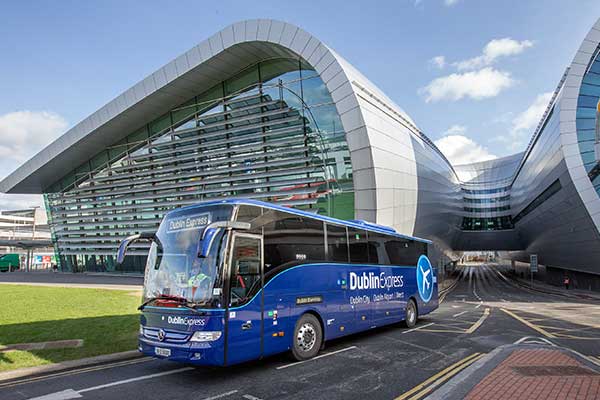 How much is the train from Dublin Airport to Dublin City Centre?
There are currently no direct rail services operating to or from Dublin Airport, you must travel into Dublin city to catch a train however Dublin Express runs from Dublin Airport to Heuston Station Train Station, Tara Street Station at the George's Quay stop and Pearse Station. Tara Street and Pearse give you access to the DART (Dublin Area Rapid Transit). The DART can take you all around Dublin and its surrounding areas. For more information please see this DART webpage.
Dublin Express has 2 different routes serving Dublin City Centre. Route 782 has stops around the River Liffey, some of these include George's Quay, Aston Quay and Heuston Station. Route 784 has stops from the west to the south of the city centre, some of these include 3Arena, Trinity College and Pearse Station. Check out your destination using this digital map.
How much is the bus fare from Dublin Airport to Dublin City Centre?
A direct ticket to the airport/ city centre costs €8 when you book online. Pre-purchased tickets bought online work out more cost-effective and can be bought directly from our website. Tickets can also be purchased directly from the driver on the day, which can be paid by all forms of card.
We offer a quick and convenient service with buses leaving every 15 minutes. The fastest journey between Dublin Airport and Dublin City Centre takes only 14 minutes, with the bus going through the Dublin Port Tunnel which is a shortcut that reduces the journey time between Dublin Airport and Dublin City Centre.
No matter where you want to go after you land at Dublin Airport, whether you wish to stay in the city or are looking to travel further, the fastest option is Dublin Express. This bus service offers quick and easy access into the city and stops in many different popular locations. If you have any queries, please feel free to contact one of the team through our website or any social media platform.
Have a great stay in Dublin!