Make your way to the stadium with ease on board Dublin Express services
With the approaching last football matches of the year in the Aviva Stadium, many passengers are arriving in Dublin and looking for transport options to get to the Aviva Stadium in South Dublin. Parking there can be challenging and become expensive, so coach travel is the best option.
Dublin Express has currently three bus services to the Aviva. This efficient and passenger-friendly service connects key locations like Belfast and Dublin Airport directly to the heart of Dublin City. The Dublin Express coach service is the number one choice for a comfortable and value-packed journey to the Aviva Stadium.


From Belfast to the Aviva Stadium
When travelling from Belfast to the Aviva Stadium, the Dublin Express 785 coach service leaves from our stop at Glengall Street. The coach takes a direct route to Dublin and ends at Westland Row. This convenient location puts you just a 25-minute walk away from the Aviva Stadium. If you want to skip the walk you can take the DART at Pearse Station, which is just around the corner from our bus stop, and get off at Lansdowne Road right outside the stadium.
This stroll through Dublin's streets presents a great opportunity to sightsee the many parks and historic building along the route. Why not make the best of your time and enjoy Dublin while getting there?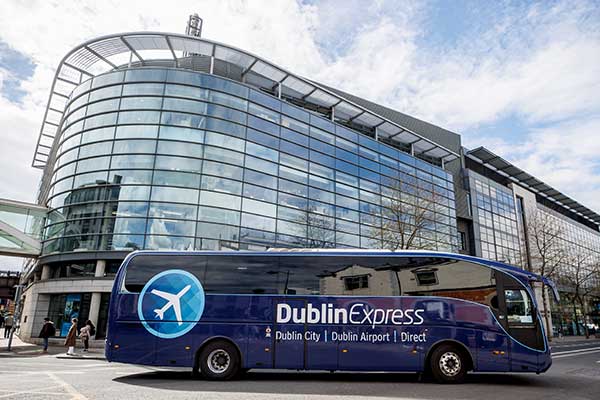 From Dublin Airport to the Aviva Stadium
For those flying into Dublin Airport, the Dublin Express 782 and 784 services provide a seamless connection to Dublin City Centre. There are bus stops located just outside Terminal 1 and Terminal 2, making it easy to find.
For those getting the 784 service to Dublin City Centre & South, we recommend getting off at the Merrion Square stop. You will be a pleasant 15-minute walk away from the Aviva Stadium. This walkway takes you through Merrion Square Park, offering you the chance to experience a piece of Dublin's greenery before immersing yourself in the exhilaration of the big game at the Aviva.
For the visitors on the 782 service to Dublin City Centre & Heuston Station, you can simply get off the coach at George's Quay. From here you can then hop on a DART at Tara Street station and disembark at Lansdowne Road station. This journey by DART is incredibly fast, only taking around ten minutes.

From Heuston Station to the Aviva Stadium
If you're travelling by train into Dublin City Centre, one of the options is to take our 782 service to Dublin City Centre & Heuston Station. You can get off at Custom House Quay and take a short 5-minute walk to Connolly Station. From there, DART services leave frequently to take you to Lansdowne Road, the Aviva Stadium stop. It's only a 10-minute ride too!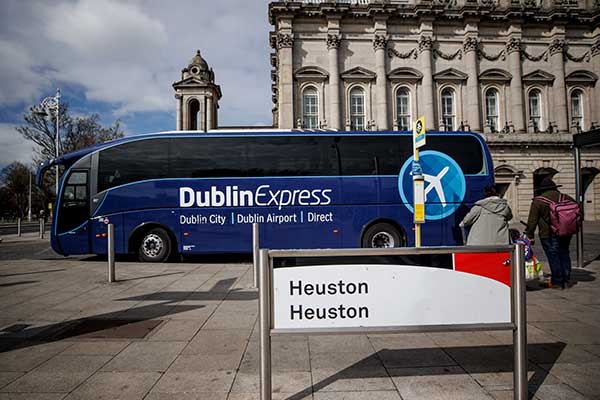 Why Choose Dublin Express?
Our coach services offer an unbeatable combination of comfort, convenience, and reliability. The coaches are well-equipped with reclining seats and generous legroom to ensure a comfortable journey. For passengers wishing to stay connected or entertained during the journey, free Wi-Fi and USB power outlets are provided.
Tickets pre-purchased online are more cost-effective and can be bought directly from our website. If you prefer to buy your ticket on the day of travel, you can do so on our coach with the driver. We accept all types of card payments for your convenience, including Debit Card, Credit Card, Apple Pay and Google Pay. As a safety precaution for our drivers, we are unable to accept cash.
Tickets bought for the 782 service can be used on the 784 and vice-versa. This does not apply to the 785 Belfast coach.

Hotels near the Aviva Stadium
If you're planning your trips and looking for accommodation conveniently located close to Aviva Stadium, we've got you. Here's a list we've compiled of hotels in Dublin and which stop you should use. You can look for hotels near our Westland Row, Merrion Square or George's Quay stops to be just a short walk away from the Aviva.
So, if you're heading to the Aviva Stadium, why not travel in comfort and arrive in style with Dublin Express? With easy online booking, reliable service, and a focus on passenger satisfaction, it's the perfect transport solution for all Aviva Stadium-bound travellers.