Travel to TradFest with Dublin Express coaches
Are you going to TradFest this month? Running from Wednesday 25th of January to Sunday 29th January. Our 782 route stops right outside Temple Bar at our Wellington Quay stop. For visitors and locals alike, Trad Fest gives audiences the opportunity to enjoy amazing Irish music and culture set in the heart of Dublin City Centre. Trad Fest showcases the best of Irish talent from well-established to emerging new talent.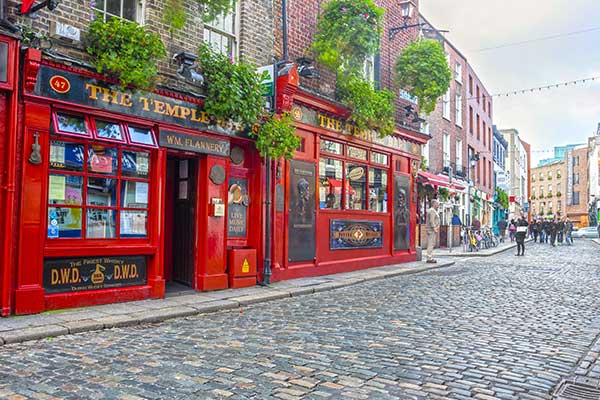 TradFest Temple Bar brings you the best of Irish music! It's a celebration of Irish identity through music, with over 50 live concerts in some of the best pubs in Temple Bar and key historical landmarks in Dublin. TradFest is reimagining and redefining Irish music and reaching growing Irish and international audiences at live events and through digital channels. It is constantly curating the best of established Irish traditional and folk musicians with emerging performers. A unique event like no other, TradFest Temple Bar is the best place to experience live Irish music in January.
TradFest's headline concerts take place in the best live music venues and historical landmarks in Dublin, many of them bound up in the very fabric of Irish cultural identity. For more information on
events, venues, and festival lineup check out the TradFest website.
Temple Bar is a historic area in Dublin city, as well as a world-famous pub. The combination of artsy businesses and nightlife hotspots means that Temple Bar transforms during the course of the day: mornings are quiet, afternoons start slow, and by the evening the area fills up with the dining crowd and tourists. Temple Bar has maintained its medieval street exterior with narrow cobbled streets over the years it has been around. It is famous for its lively nightlife and attracts a number of tourists with its large variety of bars, clubs and restaurants.
If you are travelling from Dublin Airport to Dublin city centre, Dublin Express provides the fastest coach transfer. To get to Temple Bar, you can take the 782 route on Dublin Express and get off at Wellington Quay which will drop you at a very central location. Dublin Express stops directly outside of Terminal 1 and Terminal 2. If you are travelling by train we also have stops right outside of Heuston Station or close to Pearse, Connolly or Tara Street Station. There are events going on all around the city, with our 15 convenient city stops we can take you to wherever you need to go.
For full information check out the Temple Bar Trad Fest website.