Celebrate in style this St Patrick's Day
St. Patrick's Day is a national holiday in Ireland and is celebrated with great enthusiasm in Dublin, the capital city. If you're planning a trip to Dublin to celebrate St. Patrick's Day, there are so many ways to enjoy the holiday.
From March 16-19, there will be events happening all over the city as part of the St Patrick's Festival. The festival is a dynamic showcase of Ireland's rich culture and heritage and includes events to suit all ages. Some of these events feature live music, pageantry, family entertainment, storytelling, street theatre, dance, and Irish language activities.


St Patrick's Day Parade
St Patrick's Day is famous for the parade in Dublin. The St. Patrick's Day Parade is the highlight of the festival and is held on March 17. You can join the crowds lining the streets to watch the parade, which features colourful floats, marching bands, and street performers. There are expected to be half a million spectators at the parade in 2023!
The Parade will feature over 4,000 participants, including 7 creative pageants, 10 transitional showpiece performances, and 15 marching bands from across Ireland, North America, and Canada. 2023 is shaping up to be the largest-ever National St. Patrick's Day Parade. You won't want to miss it.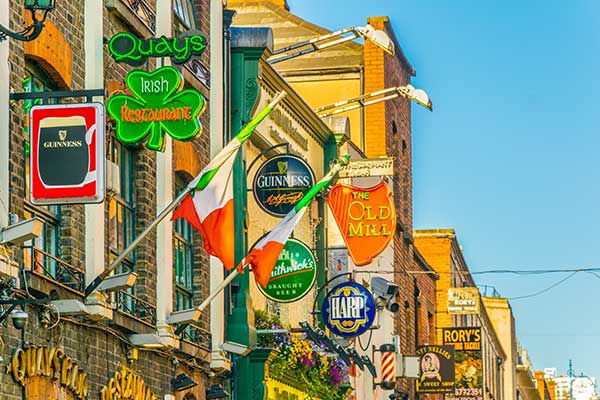 St Patrick's Festival – Where to go
From 12pm on Friday 17 March, St. Patrick's Festival Quarter at The National Museum of Ireland will be a hive of free events, happenings, music, song, and dance for people of all ages as we celebrate St. Patrick's Day in style! As St. Patrick's Day turns into St. Patrick's Night, there will be live music playing across the legendary grounds of the National Museum of Ireland Collins Barracks to celebrate some of Ireland's incredible traditional Irish music artists. Check out the festival website for more information.
There will be many St. Patrick's Festival supported live events and club nights throughout Dublin over the period of the Festival. Enjoy everything from art exhibitions to yoga classes, orchestral performances to brand new theatre pieces, and walking tours to skiff racing. This is a wonderful opportunity to celebrate the city while also supporting workers across the arts, culture, heritage, festivals, entertainment, tourism, hospitality, and accommodation industries, locally, nationally, and internationally. There will be something for everyone this St Patrick's Day weekend, so bring your family and friends along to celebrate.


Irish Food and Music
Apart from the festival, there will be things to do all over Dublin as the entire city will be celebrating St Patrick's Day. Temple Bar is one of Dublin's liveliest areas and will be filled with people all dressed up in green. There will be a great buzz around the area.
Dublin is renowned for its food and music, and St. Patrick's Day is the perfect time to sample both. You can enjoy traditional Irish dishes and listen to live music performances in the city's many pubs and bars. You can find some of Ireland's best pubs and restaurants all over the city, from Temple Bar to O'Connell Street, and all way over to the Docklands.


Plan Ahead
There is so much going on in Dublin for St Patrick's Day weekend that you will have an endless number of things to do. However, it's important to remember that St. Patrick's Day is a public holiday, and many places will be busy. It's best to plan everything ahead of time.
When it comes to places to stay and eat in the city, make sure you have everything booked well in advance to get the best deal and avoid disappointment. As there will be so many people travelling for the weekend, you need to have your entire trip planned and everything booked. Avoid stress and plan everything before you go.
Remember to have fun and make the most of the weekend celebrations and let Dublin Express get you to the heart of the city centre this St. Patrick's Day.