Valentine's Weekend in Dublin
Dublin is a great city for weekend breaks, especially for Valentine's Day. You can take your loved one on a romantic walk in Stephen's Green or go to one of the many amazing bars and restaurants in Dublin's city centre. There are also many fun activities you can do if you are looking to do something a little bit different.
With 15 city centre stops, Dublin Express will be sure to get you right to your key city centre location.
Visit Dublin's Most Romantic Restaurants.
Looking for an area with a great atmosphere? Go down to the docklands where there are plenty of bars and restaurants to choose from, both north and south of the Liffey. There are also many restaurants with a great view of the Liffey, you can't beat a good view on Valentine's. Our North Wall Quay stop on the 784 route will drop you right at the perfect spot.
Temple Bar is always a great option, with so many popular food and drink spots, you can't go wrong. Do keep in mind that food and drink here may be on the pricey side though. Get off at Wellington Quay on our 782 route for access to Temple Bar.
With restaurants from Temple Bar extending to O'Connell Street and all key locations, there are plenty of places to choose from with something to suit every taste. Dublin Express has stops all over the city, so we'll be able to take you wherever you need to go.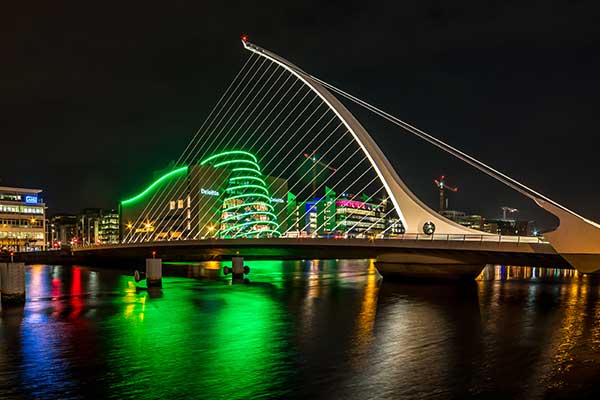 Spend a night at the Theatre.
If you're looking for something a little different, why not spend an evening at the theatre? The Abbey Theatre is Ireland's national theatre, founded by W.B. Yeats and Lady Gregory in 1904. It can be found on Abbey Street, a short walk from O'Connell Street. Our Eden Quay stop on the 782 route is a short stroll from the theatre. With its impressive history, as well as its current offerings, it makes for an excellent way to spend Valentine's Day weekend with your significant other.
Visit one of Dublin's many Museums.
National Museum of Ireland
National Gallery of Ireland
Dublin Castle
Dublinia (the Viking Centre)
EPIC (Irish Emigration Museum)
If you're looking for some fun things to do in Dublin with your partner, then there are plenty of museums that will make for a great afternoon out! The National Museum of Ireland and its sister institution, the National Gallery of Ireland, are both excellent places to visit. They're full of fascinating artifacts from all over Ireland's history and culture - and they'll give you plenty to talk about on your date night together!
You might also want to check out Dublin Castle or Trinity College while you're there; they're two other popular sites that make up part of this city's rich heritage as well if museum-going isn't really your thing. Dublinia and EPIC are also great museums options that offer something different. You can learn all about Medieval Viking Dublin at Dublinia and EPIC offers an interactive journey to help you discover what it truly means to be Irish.
Our Merrion Square stop on the 784 route gives you access to many museums. You can access Dublin Castle from Wellington Quay on our 782 route. EPIC is right by our North Wall Quay stop on our 784 route. Merchant's Quay on our 782 route is our closest stop to Dublinia.
Looking for something a bit different?
There are so many fun things to do in the city that would be great for Valentine's Day. If you are not interested in going out for dinner or visiting a museum, we have some options for you. Why not try an escape room, the city has so many fun ones. The Viking splash tour is always great fun and could be a good, out of the box option.
Make this Valentine's Day in Dublin a special one by doing something unique.
The best Valentine's Day in Dublin is one that makes it about the two of you. No matter what your partner likes to do, there are plenty of unique things to do in Dublin. You can even make it simple by heading out for something to eat at one of Dublin's many restaurants or cafes. If you have kids, there are still many fun things to do for all the family!
We hope that you've found this list of Dublin's best Valentine's Day activities to be helpful. If you're looking for more inspiration on where to go and what to do in Ireland, check out our blog post on How to spend 24 hours in Dublin.